The sculpture garden at the Brooklyn Museum is a marvelous sort of orphan home for stray monsters.

Rescued figures and architectural details of every stripe have been gathered here where they hang along the walls and nestle in shady ivy beds.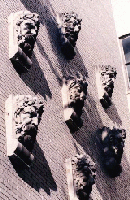 Although there is something a little peculiar about the row of giant Bacchus heads mounted along an otherwise featureless concrete wall (giving them more the air of guillotine victims than gods of wine and revelry), for the most part the craftsmanship of the individual pieces is brought to the fore in this gallery-type setting.

The ideal trip to the sculpture garden will actually begin across the street at the Brooklyn Botanical Gardens- which is another New York City gem. A picnic lunch on the Cherry Tree Esplanade is highly recommended, followed by a leisurely stroll through the Japanese garden where you may be lucky enough to spot an exotically colored wood duck.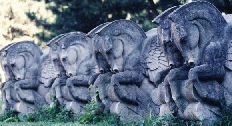 Once your senses are sufficiently intoxicated, make the short trip across the shared parking lot to the Brooklyn Museum.

You'll know you're getting close when you see blocks of marble looking suspiciously like unfinished tombstones discarded in the grass.
Neighborhood Notes: The Brooklyn Museum is located on Eastern Parkway and Washington Avenues in Brooklyn. They are open Wednesday-Sunday from 10:00am - 5:00pm. To get there by subway, take the IRT 2 or 3 train to the Eastern Parkway/Brooklyn Museum stop. For more information, call 718-638-5000.

Try another one of the Monster Walks.


© 2003 Amelia Wilson. All rights reserved.